A pulmonary embolism is an extremely dangerous condition where a blood clot has formed and pieces or a small portion of it breaks off and travels to the lung. It can also make its way to a person's heart or brain and block one of the life-sustaining blood vessels. When this happens, not only can it cause the loss of life, but it can also result in several other serious problems.
Some of the most common health issues a pulmonary embolism is known for causing include the following:
Deep venous thrombosis, which is more commonly known as DVT . This is when a portion of a blood clot that is formed in the abdomen or leg breaks away and travels to the person's lung or heart.
Stroke – This is a serious issue that can occur when the brain's blood flow becomes blocked due to a blood clot.
Heart attack – When one of the major vessels in the heart becomes blocked from a blood clot it can cause a heart attack.
Each of these is very serious and can lead to the loss of life. This is why more people than ever before are making the wise decision to help prevent pulmonary embolism by taking natural omega-3 oils.
You Can Help Prevent Blood Clots from Forming with Omega-3 Oils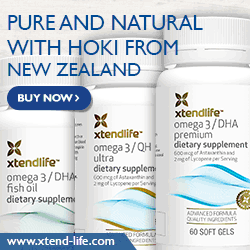 Not only can omega-3 oils help prevent clots from sticking together inside the heart's blood vessels, but there are many other benefits of this natural remedy as well. Here are just a few of the beneficial advantages that are received from taking regular amounts of omega-3 oils —
Works as a natural blood thinner – Omega-3 oils contain properties that allow it to work as a healthy and natural blood thinner. This is very helpful for people whose bodies have the tendency to form blood clots.
Helps to prevent abnormalities in the heartbeat ñ This is a problem that can result in abrupt cardiac arrest, which is known as being a leading cause of death in patients suffering heart disease.
Helps to control and maintain healthy levels of cholesterol – There are harmful side effects that patients taking prescription drugs for cholesterol problems must watch for. Omega-3 oils provide a natural and safe way to lower the LDL cholesterol and improve HDL cholesterol levels without the worry of dangerous side effects.
Helps to prevent harmful plaque growth – When plaque forms within the heart's arteries they become narrow. This can resort in stroke, heart attack, and other serious health problems.
Helps to maintain healthy low levels of triglycerides – When a person's triglyceride levels become higher than they should be the risk of having a heart attack will rise much higher.
Omega-3 fish oils can be obtained in molecularly distilled fish oil supplements. It can also be found in a variety of fish choices that include tuna, hoki, wild salmon, and mackerel.
Related Posts :